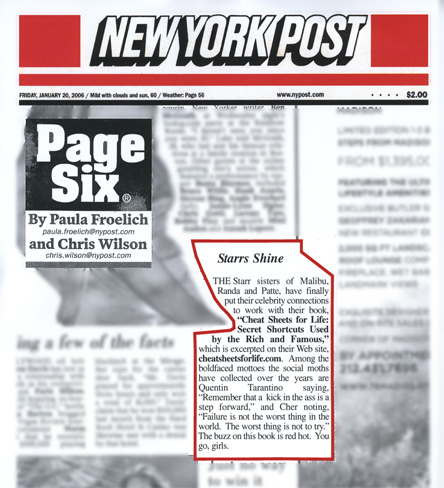 About Cheat Sheets
JOHNNIE MORTON, the NFL great, was one of the first folks to buy our book. HE LOVED IT! Recently, his girlfriend took it to read & wouldn't give it back. Johnnie HAD to buy another copy the very next morning. You'll love it, too! But keep an eye on your friends when they pick up YOUR COPY & can't put it down.
We're here to share the secrets we learned from super-achievers that got us to a wonderful place in EVERY WAY. We were recently featured in 'Page Six' of the NY POST. Our book tells you everything you need to know to make your dreams happen.
Most of you don't have the time to read. Some of you hate reading. We still want you to know all the secrets for success, romance and peace of mind. Why shouldn't you have a great life?
So skip the years of stressing and searching. The party is NOW -- and you're invited! Join the countless others who have used CHEAT SHEETS FOR LIFE to make their dreams an everyday reality!